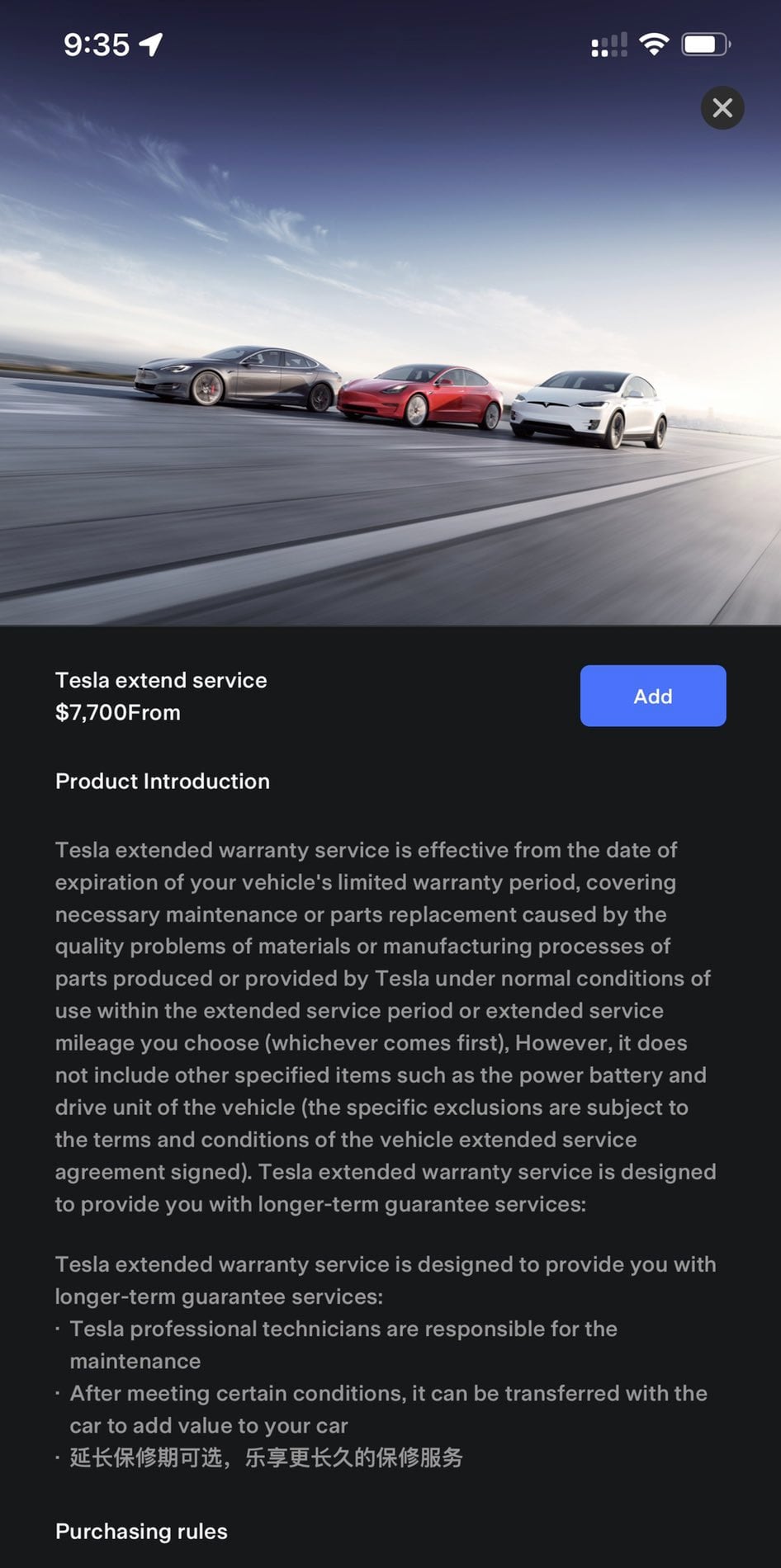 Tesla may have unveiled a new extended warranties program a little early. When version 4.11.0 of the mobile app went live, a new item appeared in the Upgrades section titled Tesla ESA.
The acronym stands for Extended Service Agreement and costs $7,700. It was visible for less than 30 minutes, but it was more than enough time for some Tesla owners to grab some screenshots and share them on social media.
The description explains that the ESA would be: "effective from date of expiration of your vehicle's limited warranty period covering necessary maintenance or parts replacements caused by the quality problems of material or manufacturing processes of parts produced or provided by Tesla."
The sentence rambles for a few more lines with several grammatical errors, spelling mistakes and poor formatting. Clearly, the description was in an early draft or rough translation phase and was not ready for public consumption, but whether ESA is being prepared for all models remains unknown.
It's possible the price may also be a placeholder.
Tesla has not commented on the appearance and disappearance of ESA from the upgrades section. However, its caused some confusion as an Extended Service Agreement is in place for Model S and Model X vehicles built between 2012-2020. As a result, some believe the addition to the app may have been that program. In contrast, others think Tesla is rolling out an extended plan for all models and all production years.
The price listed at $7,700 is a considerable increase from the existing program. If purchased within 180 days of the limited warranty, a Model S costs $2,500 for a two-year agreement and $5,100 for a 4-year program. The Model X costs $2,900 for two years and $5,750 for four if purchased within six months of the regular warranty expiring.
The price jumps after 180 days on both models. The write-up for this possible new ESA does not list how long the agreement is, but it does list the same 180-day thresholds that are currently in place. Keep an eye on the upgrades section of your mobile app; perhaps the ESA will reappear one day.
By Kevin Armstrong